3, 2, 1….Open!
by Cup of Change on 07/23/10
The days prior to our opening ceremony, the shelter was all a buzz with excitement. Children of all ages swarmed the library to volunteer and help decorate their new space. This was by far my most favorite day yet of our summer projects, as you could feel the energy bouncing off the walls, radiating from each child. It was amazing to see how proud everyone was of the new library and to me it felt this was the day this space truly transformed into their library.
We went through so many rolls of tape to secure photos, posters, continents and our giving tree onto the white-washed, cement block walls. We nailed multi-colored rope across the wall, so that posters in English and Nepali could be hung with clothespins onto the rope. This method will make it easy for the posters to be changed or rehung as desired by the new librarians in the future. The librarians stayed busy all day too, helping to translate the library rules into Nepali, creating a reading assessment chart to categorize all the children into their respective reading levels. In the next week, the librarians will begin reading assessments in English and Nepali for all the children and assign a suggested colored reading level. This will allow children to know which type of book is best for them to read, not too easy, not too hard.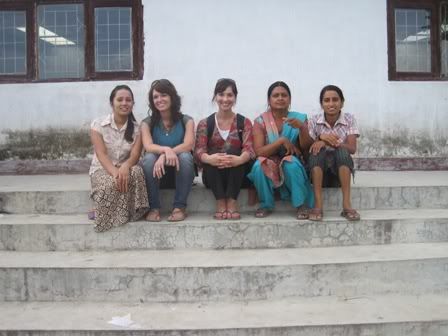 The new librarians (from left: Rama, Leeza, Chaska, Shiva Maya, Gita)
The basketball court continues to be a challenge. In good news, we have at least 10 strong Nepali workers ready to work hard and fast, however, the monsoon season has presented a true obstacle this year. It's impossible to work on the court during the downpours, which are happening with great frequency. Despite the depressing rain, we do see positive progress on the court and keep hoping for more sunny days. At this point, it would have been impossible to have the court 100% ready by July 17th as anticipated, however, we feel positive that the children will have a high-quality court to play on within the week. This is great news after an exhaustive month spent dealing with daily issues on this front. In more good news, the basketball pole and tire swing were delivered to the shelter on Thursday and they look wonderful! Although the rain did not let up in time for them to be installed for the big day, they will be safely installed at the first dry opportunity.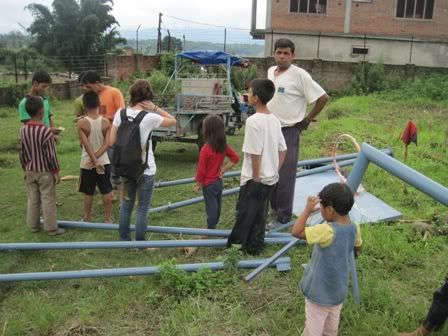 The bball pole and tire swing arrive! They were delivered in a little blue tractor and then gave a fun ride to some of the children around the yard.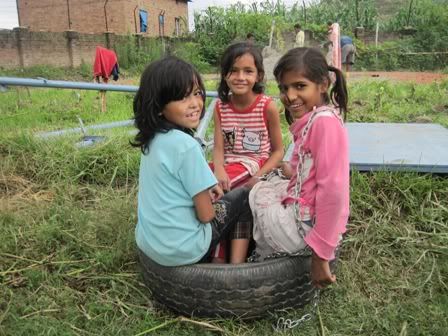 The tire for the tire swing.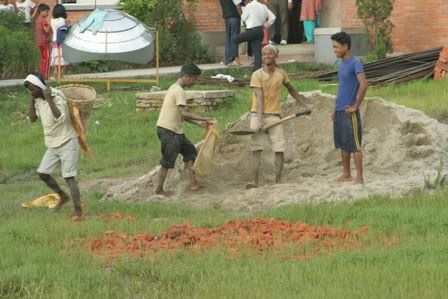 Working hard to move sand and brick during a break in the rain.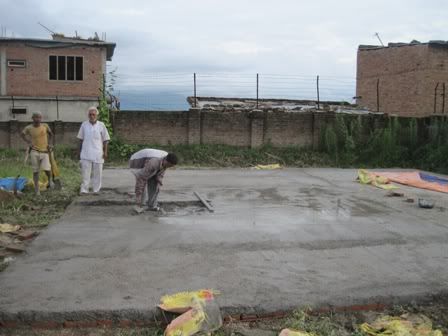 The basketball court is starting to look like a basketball court!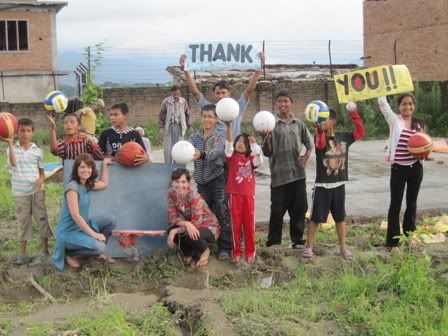 Thank you from thousands of miles away!
After much anticipation and a long, busy month, shelter mothers, children, Women's Foundation staff and Cup of Change came together to celebrate our Opening Day Ceremony on July 17, 2010 in Thali, Nepal. It was a very special day to mark the end of our summer 2010 projects, and the beginning of these wonderful resources to be enjoyed by mothers and children alike. The day began with short speeches by the Women's Foundation and Cup of Change and a red ribbon cutting ceremony.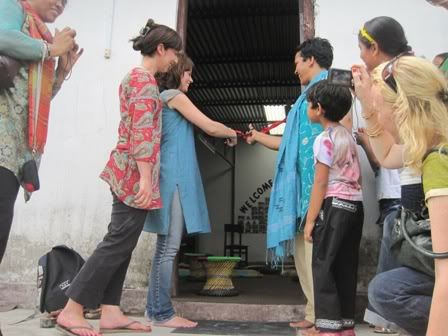 Next, everyone piled into the library, sitting atop the new cozy floor cushions, to enjoy three story read-a-louds. Leeza read Emma Kate, the story of an elephant and her imaginary best friend. Shiva Maya, house-mother/ librarian, read a storybook in Nepali named The Angry Shirt and Chaska read The Giving Tree by Shel Silverstein, which is also the theme of the new library this year. After the read-a-louds, short speeches were given by a few of the children and other attending guests.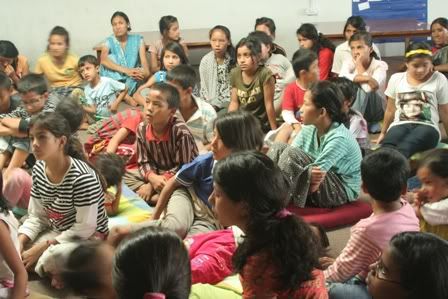 The children listen and participate during the read-a-louds.
Afterwards, we all headed outside to plant an apple tree. This is no ordinary apple tree, instead it is a tree meant to stand as a symbol for this special occasion. If you take good care of an apple tree, it can supply you with apples, shade and wood for many years to come. Just like an apple tree, if you take care of the library and books, they will supply you with knowledge and stories from around the world for many years to come. This was the moral of the story we hoped to impart to the children through our Giving Tree theme this year...and we think it worked! After our symbolic tree was planted, we passed out apples to everyone at the ceremony and officially ended our Opening Day.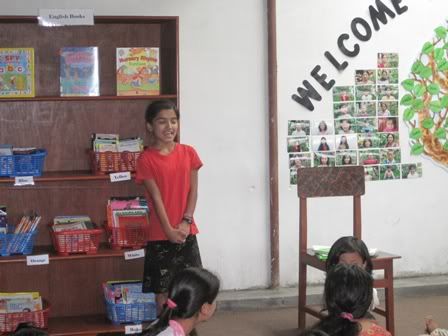 Rupa stands up to give a short speech about the library.
Kamala and Renu help to plant the Giving Tree.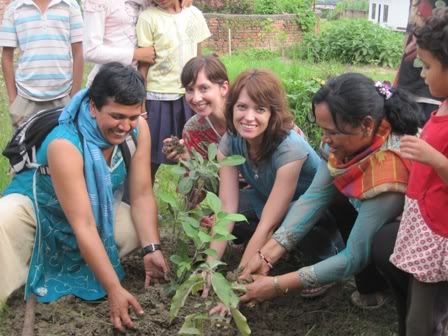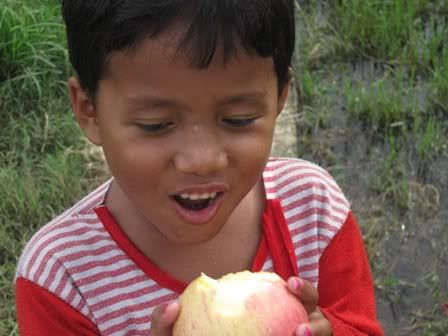 We brought 80 big, delicious apples to the shelter for opening day!
Thank You! We love books...is the message the children want to give to all the donors who made this library possible. Every shelter mother and child signed their name to the posters.
Though July 17th officially marked the close of our summer 2010 projects, it does not signify the end of our partnership with the Women's Foundation. Cup of Change is already busy planning our summer 2011 projects in Nepal. Next year, we will build a playground, volleyball court, add to the library (500 books/ paint/ fans), refurbish a playground at a WF school and plant a recovery garden! We are ecstatic to be back in Nepal next year for all these anticipated projects, but need help to complete it all! If you feel inspired, there are many ways to contribute to the cause. We are currently looking for volunteers interested in heading to Nepal with us for build week 2011 (July 2 – July 10). If you aren't able to head overseas next year, we are always looking for donations of time. Currently, we are especially in need of people willing to host a Cup of Change fundraising party with friends and family. If you have another talent that you are willing to donate, please don't hesitate to let us know. Finally, if you don't have time, we are always willing to accept monetary donations as well. It's fast, easy and secure to donate with us online.
Thanks for following along with us this past month. We will continue to update the blog with new information throughout the year about our summer 2011 projects as they get underway. If you would like to stay up-to-date, click here to sign up for our quarterly newsletter.
Namaste!
Leeza Tierney