Day 13 Update
by Cup of Change on 07/06/10
We have now been in Nepal for 13 days, which officially marks our half-way point. It has been a busy two weeks, but we have made some definite progress. We are happy to report that the electrician has finished outfitting the library with electricity and ceiling fans! Both the children and Women's Foundation staff alike were relieved to feel the cool breeze of the new fans in our library space. They will make a huge difference during the scorching Nepali summers.
Last Saturday we met with two people on the National Volleyball Team of Nepal. The woman is named Kopila and is on the women's team, and the man who helped us in the Captain of the Men's Team. They were both tall and athletic and great resources to help us understand the costs of basic equipment we will need to purchase for the courts, including: net costs, volleyballs, basketballs, poles, backboards, pumps, etc. We sat down with them for a discussion, which ended with us placing an order for iron volleyball poles, 1 iron basketball pole and 1 wood backboard. The poles have the longest lead time since they need to be specially manufactured. All the other items are pre-fabricated and can be easily purchased in the markets. Our poles and backboard should be finished in approximately five more days.
Later that day, we were able to start taking photographs of almost each and every resident of the shelter. Of 69 residents, we were able to photograph 67 women and children. Two of the shelter residents were not present and had gone to town, but that's a great feat to get all 67 people in one place at one time, so we were very pleased. We will be using these photographs for two activities planned in coordination with the library. The photos will be used by the children to make books about themselves to be placed in the library and the photos will serve as decoration on one of the walls on the library. Below are a few of our favorite photos in the collection.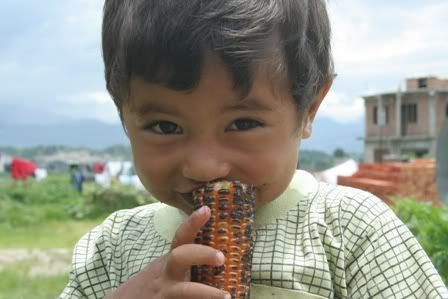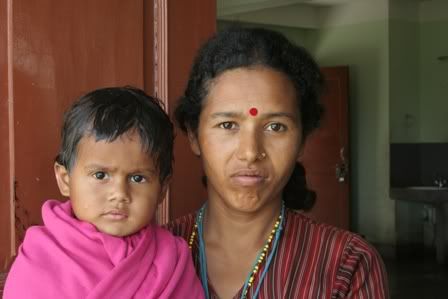 Yesterday we also received an update on the status of our other pending items. 1. All the weaving looms in the library have been moved to the next building.
2. The plumber will be finished with his job at the library by Wednesday..
3. Both the bookshelves and tables will be delivered to the library on Thursday.
4. The new carpet will be installed by local labor on Thursday.
5. The cushion covers donated by Maheela arrived at the shelter yesterday.
Yesterday, we were also able to finally meet with a land engineer in order to receive exact quotes on the basketball/ volleyball courts and grading the land, as to prevent flooding in the playground space designated for next year. Unfortunately, the basketball court quote and the quote to slope the land were astronomically high... out of our budget, thousands of dollars high. So, we are looking into other options and checking with different resources to find more economical quotations for these projects. This was a big step backward for us yesterday and unexpected, especially since we had already ordered the basketball pole and backboard two days prior. Our hope is to cancel this order, but if that is not a possibility we have plans to turn the pole into a tire swing for the young children at the shelter. We were upset about this setback, but with a little creativity and ingenuity, we have no doubt we will come up with a better Plan B. We will keep you posted on this front as we research our options.
So for the time being, we are proceeding with the volleyball court in the designated space. First, we will need to fill in the land to get rid of the many ridges and holes in the ground. Then we will cement in our new volleyball posts and outline the court with a row of bricks. We can begin this process as soon as our posts are finished, which should be within the next five days.
Yesterday, we also were able to swing by the Room to Read office in Lalitpur, Nepal. We picked up our order of children's Nepali books. Unfortunately, some books were not in stock, so we only received about 46 books of the 118 titles. However, Room to Read staffers directed us to another book retailer, Book Palace, where we placed an order for almost 300 Nepali books ranging from beginner levels through grade level 10. We were also able to negotiate a special discount for non-profits, so our entire order will be 15% off. This means that the total number of books in the library this year should be around 500. What a great start for the opening of the brand new Thali library! Below is a photo of Chaska and our Room to Read contact, Pawan Kharki, in front of a collection of Nepali children's books.
During this process of creating the library, we have appointed a couple of the older children to act as librarians to help run and maintain the library in the future. The two girls are named Gita and Rama. We have had a few meetings with Gita, Rama and the house mother regarding library management. Gita and Rama were responsible for picking out many of the books we ordered at the Book Palace. Currently, they are working on creating the library rules and decorations. We will meet with them again in a few days to begin leveling the Nepali children's books and referencing them into a book catalog.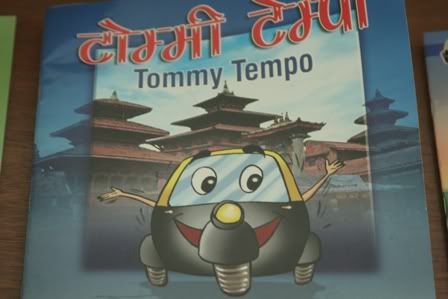 Breaking news....Our final update comes as of one hour ago. Our amazing driver and go-to-guy Ram visited a carpenter in Thali (near the shelter). He was able to negotiate a great deal with the local carpenter, who will now be building us a librarian desk with drawer, a locked cabinet, a notice board and a chair. Ram has also offered to transport all of our furniture for free in the back of a borrowed taxi car, which will save on transport costs! Thanks Ram!
Thanks for following our progress. Stay tuned for more!
Leeza Tierney