Day 18 Update
by Cup of Change on 07/10/10
Great news…the basketball court is a GO! Last blog we were sincerely worried that the basketball court may prove too expensive for our budget. However, luck would have it that the Nepali family, from who we rent our apartment, knew just the man who could save the day. His name is Hari Krishna. The best recommendations are word-of-mouth and Hari had just recently done some work for the Giri family. We could even see a sample of his workmanship, since he had laid the stone courtyard of our apartment building. Almost at once we took Hari Krishna to see the space at the Thali shelter. He quickly gave us a number of quotes based on using different materials and by the end of the day we made a decision. We chose to build a basketball half-court (made of brick) and a volleyball court. Bricks happen to be manufactured in the nearby town of Bhaktapur and are surprisingly more economical than concrete. We are thrilled that both projects will now fall within the budget and happy to proceed as originally planned. The very next day we were also informed that our volleyball poles should arrive to the shelter any day now, so we headed out to a store named Ekta to purchase the basketball rim and net, basketballs, volleyballs and a volleyball net!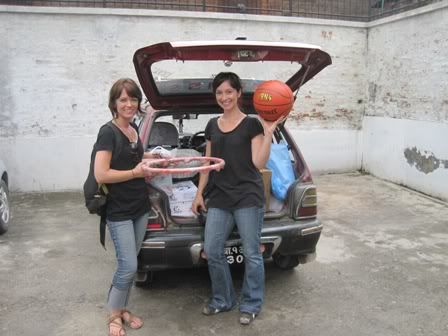 The beginning of our basketball half-court.
Moving bricks to use for the court.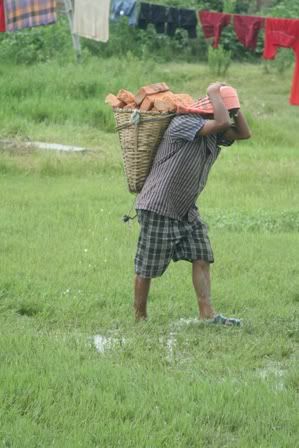 Chaska with a school principal discussing the bball pole.
In other good news, our three bookshelves have arrived to the shelter from carpenter #1. They are enormous and we are hoping we have enough books to fill the empty shelves. On Friday, we made our final purchase of Nepali children's books for this year from the Book Palace, a store recommended to us by Room to Read. We purchased 297 Nepali books, varying from beginner readers to young adults. Add that to the 46 books purchased from Room to Read plus the 150 books we brought overseas and this brings the total number of books that will fill our new library shelves to a grand total of….493 books! Two older girls at the shelter will be the new librarians and they have had their hands full the past few days, leveling and cataloguing each of the 493 books. This is a great start for our first year and a big thank you to everyone who donated books for the new library. Next year we will definitely need to pack more in our suitcase and hopefully purchase many more Nepali books too!
The new library shelves.
Librarian Gita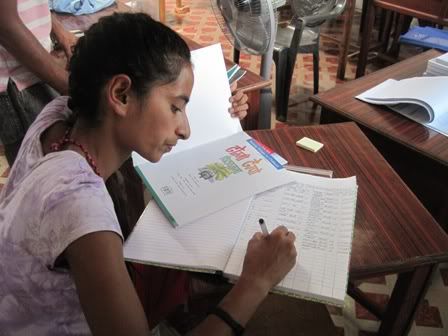 Librarian Rama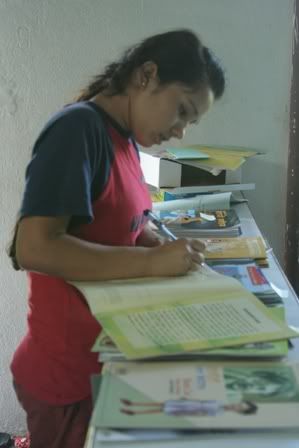 Book Palace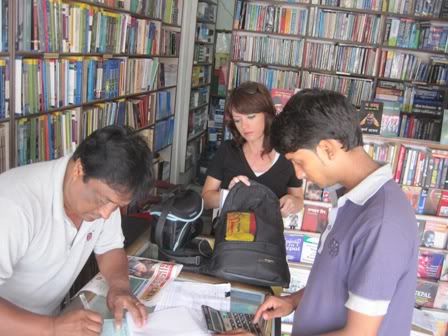 As of Friday, the library was also outfitted with three reading tables from carpenter #2 and 30 sitting cushions and covers. The cushion covers were hand-made and donated to us by Maheela Cooperative, a local artisan women's group that hand-stitches traditional Nepali dhakas. Many of the women of Maheela have been victims of violence and learned the art of weaving dhakas to ensure a livelihood for themselves and their children. To learn more about Maheela Cooperative, watch the short documentary we made about them last year. View>>
(If you have an issue viewing the video, it is also available on our website under the Media tab.)
Hari and Suraj with the newly covered cushions.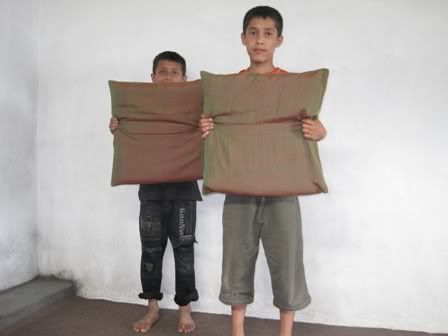 There are still a few more items we need to complete the library. We are waiting on a librarian's desk, chair, locked cabinet and notice board that are being crafted at nearby carpenter #3. We stopped by on Friday and they ensured the items will be ready by Sunday. Conveniently, right next door to carpenter #3 is the local metal fabricator. We met with them on Friday and submitted our order for one basketball pole and a tire swing too! The tire swing was an unplanned expense, but one we feel is necessary to give the shelter toddlers something age-appropriate and fun to play with in their backyard. Both pieces should be finished in about one week. We are crossing our fingers they can be completed and installed before our grand opening. On July 17, 2010 we are planning a Grand Opening Ceremony to be held at the Thali shelter. All the shelter mothers, children, Women's Foundation staff and friends will be present to enjoy live music, sweet treats, book readings and we will officially cut the red ribbon to open the library, basketball court and volleyball court. We are so excited for this big day, especially after all this grueling work, but the pressure is on to pull it off on time!
It's hard to wait until opening day to read the books!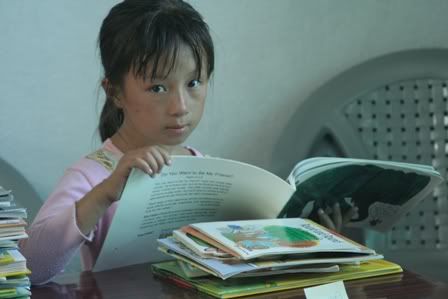 Carpenter #3 making our notice board.
Yesterday, in order to build up excitement for opening day, we worked with the children on a project making books about themselves. We used construction paper and ribbon to make the books and gave each child a photo of themselves to glue to the book cover. On each page, the children could write something such as likes and dislikes, poems, favorite foods, best friends and draw pictures. All 65 children's books will be kept in a special basket in the library so that they can read them, or friends and volunteers visiting the library can get to know the children through their books. Everyone had a fun time and it was great to see their creativity sparked.
The children making their books.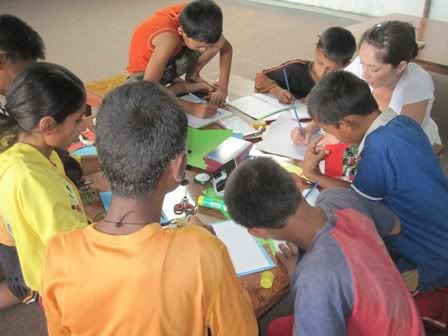 Maikal with his finished book.
Our last seven days are bound to be full of activity, getting ready for our big day. We hope you will continue to follow our blog and share in the excitement…
Leeza Tierney