Day 5 Update
by Cup of Change on 06/28/10
We're on Day 5 and have been super busy getting our projects started. After arriving on Thursday (not Wednesday like I said in the last post,) we jumped right in and started preparations for all of our projects. We visited the shelter on Saturday and were able to see for the first time the space that has been set aside for our library project and were also able to identify a plot of land to put in the basketball and volleyball courts. Best of all though we got to see the the kids and play with them. They are SO excited for their new library and play spaces!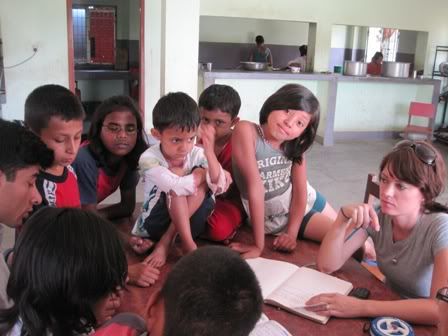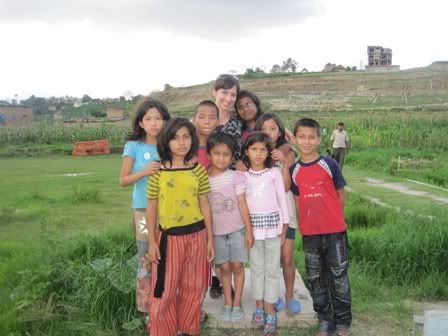 The library will be in a space that was being used for training women how to weave and sew in preparation for joining the Maheela Scarf Cooperative that the Women's Foundation sponors. WF is giving us half of the structure to create our children's library and will move all training operations into the other half of the structure. The space given to us is much larger than we thought, which is awesome-- about 30ft by 26ft. The walls and floor are cement and it has a tin roof. The structure doesn't have electricity currently, and we noticed evidence of rain leakage in part of the structure, which of course is a huge concern! That same day we got a quote on the cost to install electricity and also looked into creating a better drainage system for rain, and we made the decision that we want to do both. The electrician will start today (yay!) and we are waiting to hear back from the plumber about the drainage system. Both of these are costs we weren't anticipating, but we think they're important to have a nice and secure library space for the kids.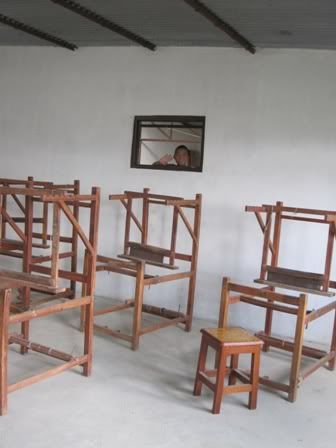 WF is expanding the shelter and is building another full residence hall that will double the size of the current shelter. This will also allow them of course to double the amount of women and children they can house. Construction will start any day now and the structure should be complete by this time next year. Fortunately, the land we originally planned to use for the playground is still set aside for us, but we have some issues we have to deal with before we can start building or installing anything. The space that we originally planned to put the basketball and volleyball court recently flooded extensively... not good. There is still tons of water in the space, and it's obvious that we're going to need to do something to the land before we can build anything there. We have decided to put the basketball and volleyball courts on a plot of higher land that won't flood, and we'll look into how we can solve the fooding problem on the other piece of land for next year. The new space we decided to put the courts is currently covered in a crop of corn :), but we've been told they'll harvest it and clear the land within the next few days. The plot of raised land isn't quite large enough for both the courts too, so we are going to have to have a truck come in with soil to fill in the remaining needed space (another cost we didn't anticipate!) We're waiting to meet with someone that will give us quotes on this process, as well as waiting to get quotes on cement, iron, etc. to build the courts. We should have all this info by today and hopefully can get started within the next few days on these projects.
Yesterday we spent most of the day preparing for the inside of the library, which of course is much more fun than dealing with all the structural stuff :). We purchased carpet for the room and did some furniture shopping. We were hoping to find some good prices on pre-made furniture, but it turns out it's much cheaper to have a carpenter make us our bookshelves and tables. We've decided to take that route. We've been told they can get them done within about 8 days...lets hope! We're going to have low tables made and then have cushions as seats instead of chairs (big cost saver and is comfy for the kids. :) We purchased the cushions and Maheela is donating their time to sew covers for them. We had a very productive day yesterday!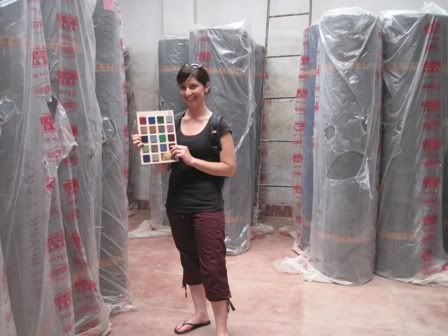 Today we're going back out to the shelter to do some follow up on the the library plumbing and the volleyball and basketball court stuff. Later this week, we'll go out to meet with a local language publisher of children's books. They are a publishing company started by the organization Room to Read, which is based in San Francisco and has been a HUGE support to us in preparing for our library.
We are really happy with the progress we've made so far, but we have tons more to do in order to get our projects complete in the short time we have here! Stay tuned for more updates in the next couple days!