End of week 1
by Cup of Change on 07/01/10
As of today weve been here for a week! The library is coming along well, but we're a little worried about the basketball and volleyball courts. After the last update, we met with a couple people who were supposed to help us out with these projects. First we met with a couple of guys that WF put us in contact with. We met them at the shelter and they were completely GQ'd out dressed in fancy clothes, shiny shoes, and shades...not the best attire to be stomping through muddy fields :). They weren't much help at all, and we all decided that they weren't what we needed. Next we were put in contact with Kupila. Kupila is a woman who plays on the national volleyball team and is currently working as a PE teacher at a local elementary school. We met with her yesterday, and she was really nice and helpful. She's going to meet us at the shelter on Saturday to take measurements and has promised to have quotes on prices and timelines for completion of the two courts. For some reason it has been REALLY difficult to get any actual quotes on pricing and timing for these, which is kind of a worry to us. We're keeping our fingers crossed that Kupila will be able to help us get things sorted out! Here's a picture of a group of boys sitting on the bricks that will soon be used to build the new residence hall at the shelter. These boys have been so exicited for the new bball and vball courts and are always close by whenever we're discussing plans for them, wanting to help in any way they can. They're adorable :).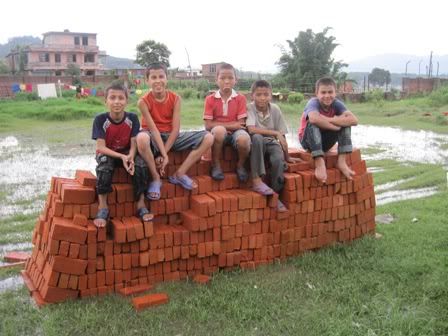 Fortunately progress with the library is moving along a lot more smoothly (although much more expensively than planned!) The electrician and plumber are busy working on the building, the carpet has been delivered and is ready to be installed, the carpenter has started on the shelves and tables, and the cushions and covers are also in the process of being made. We have spent the last couple of days focusig on the most important part of the library...the books! We both brought over a duffle bag full of English children's books that were either donated or purchased very cheaply in the States before coming over. We've had mounds of these books covering our apartment since we arrived, so we spent one evening a couple nights ago sorting through and leveling the books for the library. We are using a color coded system to categorize the books by reading level. Here are our newly "organzed" piles of leveled books in our living room :).
Today we went and visited the Room to Read office located just outside of Kathmandu. Room to Read is an organization whose mission is literacy in the developing world. They started in Nepal and are based in San Francisco and have been a great resource for us in developing our library. Room to Read started a local language publishing company that produces quality children's books in Nepali. They are non-profit and sell the books for just the printing costs, which means they are very inexpensive. Most books are less than a dollar. We had arranged a meeting with one of the local officers today and were able to take a look at many of their books. We ended up purchasing a set of all the books they currently have in stock, which is about 118 books. They also provided us with a list of books they typically purchase from other local book vendors to stock their own libraries. This will be a great resource, and we'll use this list to purchase more Nepali language books for the library. Here are some photos from our visit to Room to Read today.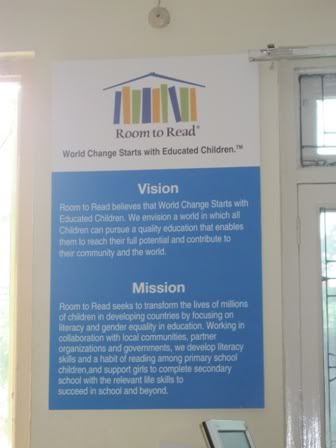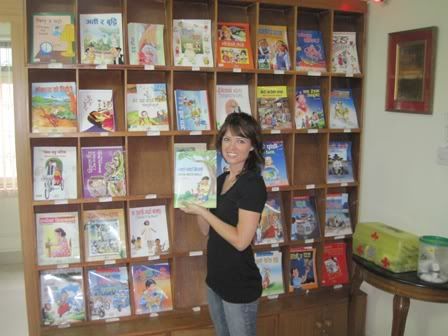 Today we also spent much of the day running errands in preparation for library related activities that we have planned to do with the kids. We'll do our first activity with them this Saturday. We're going to have them make books about themselves that will go in the library. We purchased materials for this and other activities we have planned. This Saturday we'll also meet with two older girls that live at the shelter and will act as the resident librarians. We picked up some supplies and materials for them as well today.
Aside from from meetings and running all over town for errands, we've been spending quite a bit of time doing research related to our big playground project planned for next summer. Thanks to wi-fi and cell phones, we can do this just about anywhere. A favorite spot we've found is a cafe located at Boudhanath Stupa. This is the largest stupa (Buddhist place of worship) in Nepal. It's located just outside of Kathmandu, not too far from the shelter. It's so peaceful and beautiful there and a perfect escape from crazy Kathmandu.