Hari Krishna is Fired, but the Library and Other Projects are Great... Some Ups and Downs on the Road to Completion
by Cup of Change on 07/15/10
The last few days have been interesting. The biggest news is that yesterday we had to fire Hari Krishna, the contractor we had hired to complete the basketball and volleyball courts. First of all, he only showed up for work a few days out of the last week, even though he agreed to work everyday in order to be done in time. Secondly, he had the nerve to ask us for more money for materials after we had already given him the complete cost for materials that we had agreed upon. To top things off, the work that he and his workers had done so far was TERRIBLE. The basketball court ground was completely uneven, and it was not going to be suitable for playing basketball at all. Renu, the president of the Women's Foundation, has been out of town but finally returned yesterday and was there to help us break the news to Hari Krishna that his services were no longer needed. She was much nicer than Leeza or I would have been if we only spoke Nepali! After Hari Krishna left, we had an emergency meeting with Renu about how to deal with the half-finished courts situation. We had an engineer present that helped come up with some figures and costs for materials, and Renu called and found some laborers that would be able to work the next few days from morning to night to try and complete the job. Although this of course is a huge additional cost for us, we decided to go ahead with this new plan in order to complete the job we started. These two courts have been a MUCH bigger pain then we ever could have imagined…and we thought they would be the easier of the projects!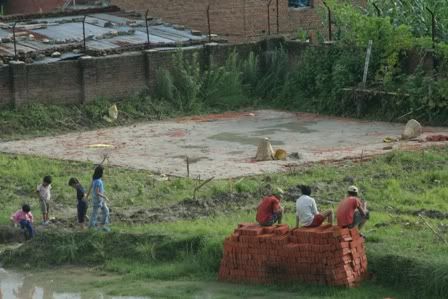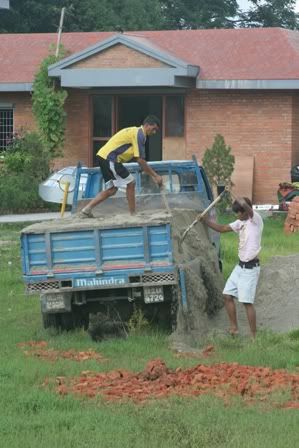 Fortunately everything else seems to have been progressing really well. We spent a number of days running all around Kathmandu with Ram, running errands, picking up needed items and checking on all the projects we have going on. It's currently monsoon season here, and most days it only rains a little, but we had a couple days of super heavy rain which slowed us down a little… we really couldn't afford to waste any time though!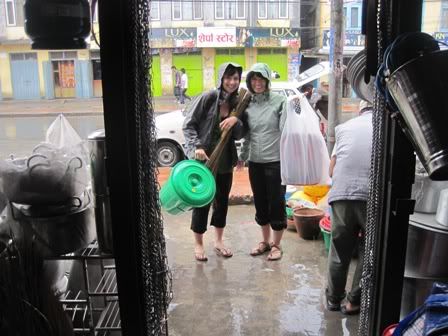 As you can see, we have just litte bit of a flooding problem with the land we plan to build our playground on next year...
Our last few items of furniture were completed by the carpenter, and we had them delivered to the shelter and got them put into the library.
Here's the tractor (the typical way to transport items here) making it's way to the shelter with our furniture.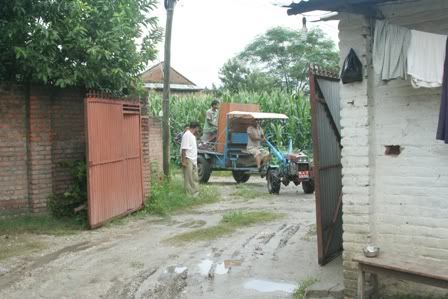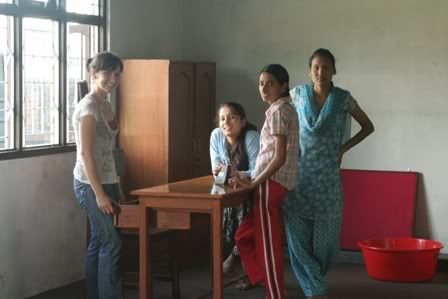 We also are having a tire swing made. The same local iron welder that is making our basketball pole made us the poles for the swing, and he also agreed to get the chain and tire attached for us if we brought them to him. We went to a used tire shop and purchased a large used tire for the swing and shopped around to find a chain that would be strong enough to hold it. Our iron guy is amazing and also agreed to paint everything for us if we bought the pain. Both the basketball pole and tire swing will be delivered to the shelter tomorrow morning, with just enough time to get them installed for our big opening ceremony on Saturday.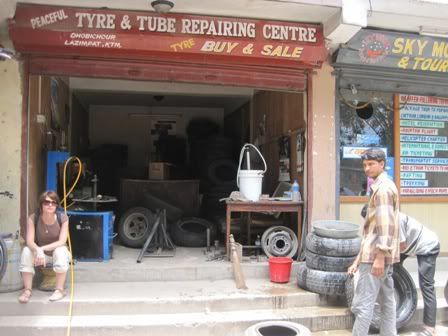 Ram and his friend helping us out by washing the filthy tire we bought.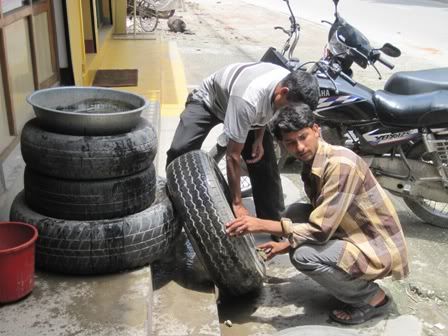 Getting the chain cut to size.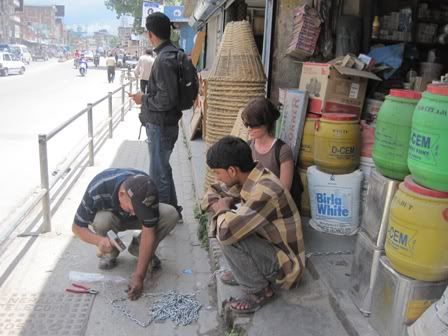 We spent the last couple days picking up some final items needed for the library. We picked up organizational and cleaning supplies, some things to help decorate the walls, along with a number of other things to make sure the library is all set for opening day on Saturday.
We picked up some small straw stools for extra seating and a little shelf for shoes to be kept outside.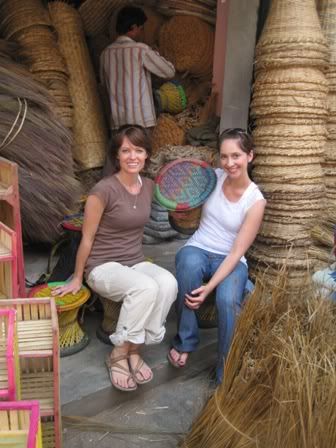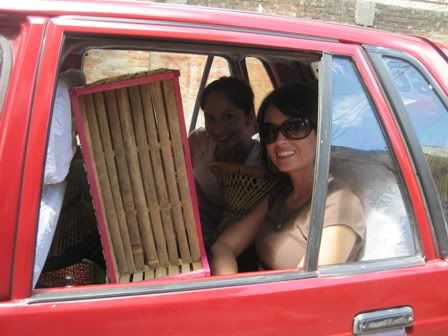 We also hit up a nursery for a baby apple tree. We'll plant it with the kids this Saturday at the opening ceremony after reading them The Giving Tree by Shel Silvestein.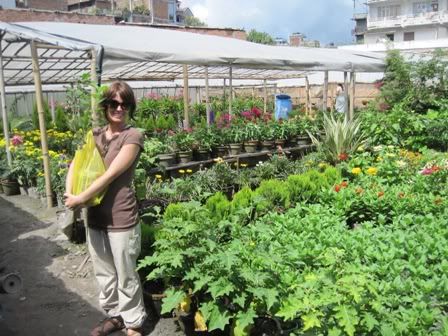 We always have lots of help from the kids in getting things moved from the car into the library :).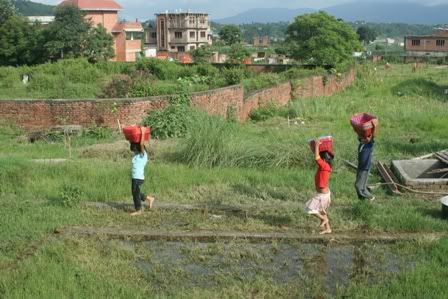 Now that we have all the furniture and items needed for the library, we were able to spend the last two days making it look nice. We had a GREAT time today having all the kids help us with this. They were all so involved and were absolutely amazing.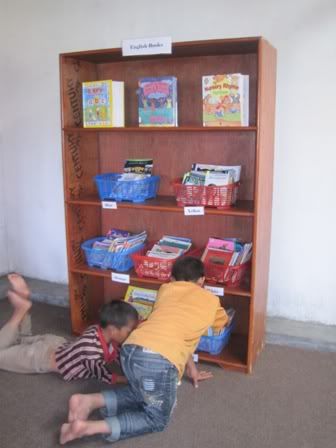 The main decoration in the library is tree with the alll the children's names written on the leaves and photos of each of them.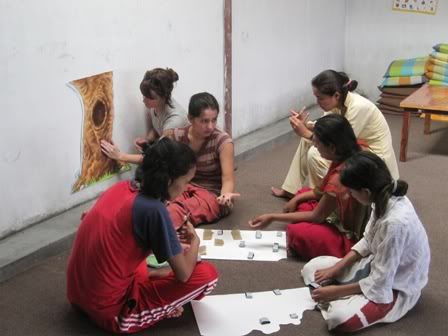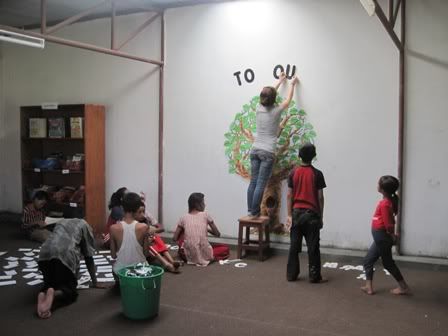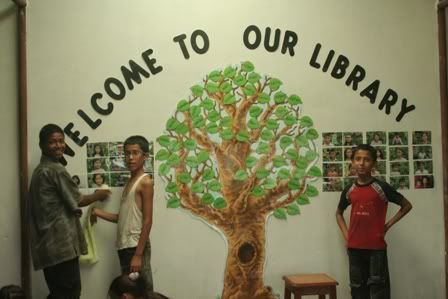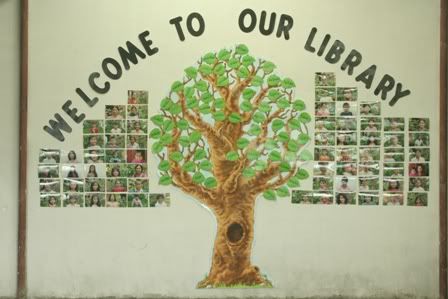 We also made some posters with the library rules and how to properly handle the books, and we put up some other posters and decorations up that we bought at educational stores both in the States and here in Nepal.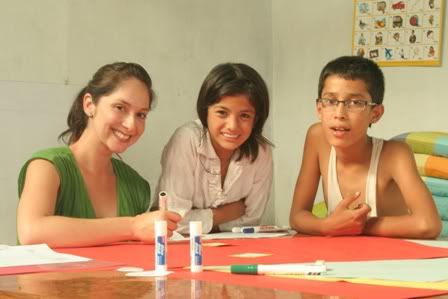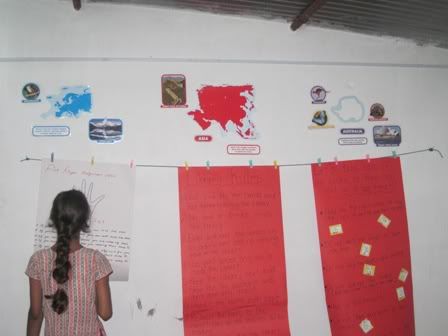 This is Shiva Maya. She's the House Mother at the shelter and has been a HUGE support to us. She's sitting in front of a pocket chart that has all the kids' library cards in it.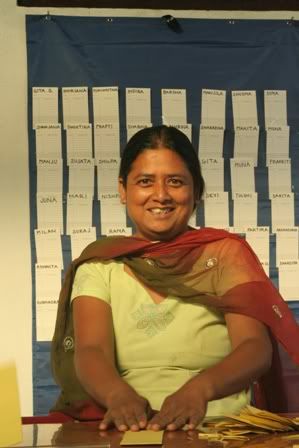 We've had a FULL last few days, and we'll have another full day tomorrow. We'll do some reading assessments with the kids, meet with Renu, and get the swing, basketball and volleyball poles installed. Saturday will be the opening of the library and the courts, and we'll have a party to celebrate, so stay tuned!